Welcome to...
Stoatpaw's Fursona Page!
The "FurSANEa" edition
The free-range edition is here.
Infobox to your right

Edit
Stoatpaw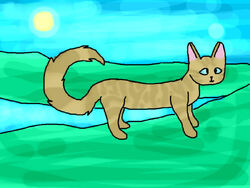 Other Names

Kit: Stoatkit

Former kit name: Snow that Blankets Hill
Relatives

None on the Blog

Shellbreeze, older sister

Milkpaw, twin brother

Logfeather, older brother
Description

Edit
Stoatpaw is a fluffy tan tabby she-cat with pale blue eyes. Her breed is called a "Toyger".
"yees74"
"This mailbox is mine."
-Stingy from LazyTown
"funerap"
-Frosty on Discord
"IKEA"
-"yes" in the IKEA language
"IKEA IKEA"
-"no" in the IKEA language
"Hi Kate,
I like your blog. Your cats are very cute.
I'm looking forward to reading Bluestar's story. Don't worry though, I'm not in a hurry! I'm way behind in reading the Warriors series. I've just finished The Darkest Hour, and just started Firestar's Quest. It's great what you are all doing in memory of Emmy Cherry.
I'd love to go to a book signing sometime, but I've noticed that Vicky always goes on tour in the USA or Canada, never in the UK. Most of you Erins live the UK, don't you? (except Tui)
I often go on holiday in the UK, so it would great if there would be a Warriors book signing in the UK sometime. I might go to the States sometime in future, but as I'm from the Netherlands, this is not very easy, and I would have to be very lucky for it to be at the same time and place as a Warriors event. Anyway, good luck and lots of fun with the writing and blogging. PS Sorry if this comment is a bit long."
- BlogClan's first comment ever! Left by Hawkclaw on August 31, 2008 at 10:44 pm BlogClan Time.
"I have a horrible voice why does it still smell like grilled pineapple"
-Lau on Discord
the box below will tell you everything
Stoatpaw is a member of the Main Roleplay, run by Flamey, Winter, Jet, and Embix.
Her characters there are:
Owlkit of BlogClan

Leapkit of BlogClan

Fuzzykit of BlogClan

Tidekit of BlogClan

Stoatpaw of BlogClan

Milkpaw of BlogClan

Mudpaw of BlogClan

Screechpaw of BlogClan

Pricklepaw of BlogClan

Reflectionpaw of BlogClan

Troutscale of BlogClan

Rest later
</div>
Ad blocker interference detected!
Wikia is a free-to-use site that makes money from advertising. We have a modified experience for viewers using ad blockers

Wikia is not accessible if you've made further modifications. Remove the custom ad blocker rule(s) and the page will load as expected.