Cadvent
is a cat themed advent calendar on BlogClan, where any member can send in Christmas cat photos, which are selected to be part of Cadvent. This event happens from December 1 to December 25. The cat pictures change daily, as does an advent calendar with candy or anything else. Cadvent is overall a joyous and celebratory time in BlogClan. BlogClan celebrated its 6th Cadvent last year!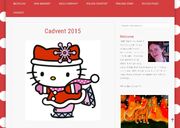 Ad blocker interference detected!
Wikia is a free-to-use site that makes money from advertising. We have a modified experience for viewers using ad blockers

Wikia is not accessible if you've made further modifications. Remove the custom ad blocker rule(s) and the page will load as expected.