Daisyfrost is a white cat with tan paws, ears, muzzle, tail, and a thick and medium length pelt. They are a bit short, but have long limbs and large paws. They have blue eyes, as well as soft, velvety ears, tipped with dark brown.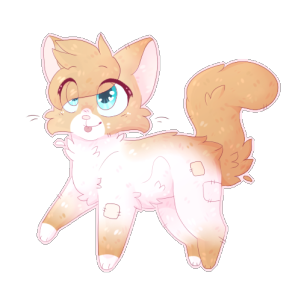 -
On The Blog
Daisyfrost has been on the blog for almost a year, and joined about nine or ten months ago, and joined beneath a different name, Deerfang, although they thought at first that it was among many others. They now go by Daisyfrost, as well as their usual nicknames, Daisy, Dais, or Davy. They can sometimes be seen on The Hug Page. They usually only comment every couple days to every couple or few weeks and are seldom seen apart from Discord and occasionally the wiki's Live! Chat.
 -
On The Wiki
Daisyfrost has been on the wiki for just over a year. They are not usually active. They are on the Live Chat occasionally. They like to joke with people, and often lose track of time and ends up chatting until it's pretty late into the night, or early into the morning. This doesn't happen often anymore, though.
 -
Personality
Daisyfrost usually has some trouble describing their personality and sees themself very differently from how other people see them. Other members can fill things in here.
-
Friends
If you are not on the list, feel free to add yourself! The list is not complete.
- Frosty -
- Goldi -
- Silv -
- Gummy -
- Fallen -
- Lily -
- Shiv(erfur) -
- Shiv(eringRose) -
- Febreezey -
- Glade -
- Darky -
- Waffle -
- Wistep -
- Rainy -
- Snowy -
- Foxi -
- Owly -
- Sunny -
- Ollie -
-Robbie
-Thrush-
-Streamy-
- Stoat -
-
Quotes
Feel free to add more some quotes that they have said!
 -
Trivia
- Daisyfrost joined the Blog on August 16th of 2016. -
- They joined the wiki on March 7th the next year, in 2017. -
- They became a warrior on June 10th, taking up the new name Daisyfrost. -
- Daisyfrost is learning French, and wants to know French, Spanish, Dutch, German, as well as Haitian Creole. They currently only know English and some French and Spanish. -
- Daisyfrost's French name is Givre de Paquerette. -
- Daisyfrost now has over 1,000 edits, and achieved 1,000 on June 12th, 2017. -
Coding by Daisyfrost, art by Plume de Foudre.