The Hawking's Journey Discussion Page revolves around the 9th Super Edition of Warriors, Hawkwing's Journey. Hawkwing's Journey follows SkyClan and their never-ending struggles.
A simliar page, Unreleased Books Discussion Page, was suggested by Wavepaw and Stoatkit in January, but never got added. It was meant for all upcoming warriors books, instead of having discussion Pages for one after another.
There was a poll and quite a bit of debate about whether to add separate book discussions or an Unreleased Books Discussion Page. Most people voted for Unreleased Books Discussion Page, but Kate added separate instead.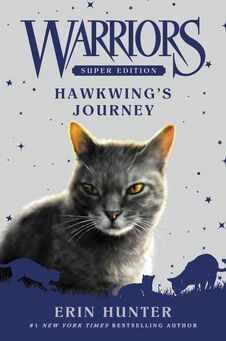 Old Camp
Edit
The Discussion Page for Hawkwing's Journey is one of the few pages that translated over from the Old Camp. It has since been abandoned there, too, with the closing of the old blog.
New Camp
Edit
This page has since become unused and abandoned, due to the release of the book and the spoiler page for the same reason.
Ad blocker interference detected!
Wikia is a free-to-use site that makes money from advertising. We have a modified experience for viewers using ad blockers

Wikia is not accessible if you've made further modifications. Remove the custom ad blocker rule(s) and the page will load as expected.