WARRIORS SUPER EDITION : LILYSHINE'S UMIDK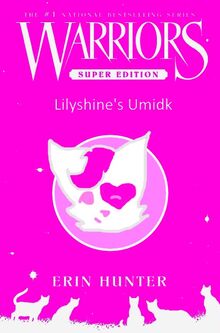 (aka cringiness : the "book")
Written by Willowpaw.
Please rate the cringiness on a scale from cringy to cringy.
How much would you hate me if I made a sequel?
CHAPTER 1 -
Edit
Lilykit ran outside of the nursery, her unusual pink fur flowing behind her. Today she was 4 moons old!
Stormpaw padded up beside her. "Do you want to go outside camp with me?" he asked.
"Yes!" said Lilykit.
They went outside camp and hunted. Lilykit caught 3 mice on her own!
She carried them back to camp with Stormpaw.
"Great job catching those mice!" said her mother.
CHAPTER 2 -
Edit
Lilypaw was an apprentice!
She and Stormpaw went out of camp.
There was a fox attack!
She fought off the fox herself.
When she got back to camp, everyone was impressed with her.
"Lilypaw, Stormpaw, you are now Lilyshine and Stormheart!" cried the leader.
CHAPTER 3-
Edit
The old deputy died!
"Lilyshine, you will be deputy!" said the leader.
Everyone cheered.
Stormheart looked at Lilyshine. "Come out of camp with me!" he whispered.
Lilyshine nodded.
"Lilyshine... I love you!" said Stormheart.
"I love you too," said Lilyshine.
CHAPTER 4 -
Edit
The leader was dead!
Lilyshine went to the Moonpool to get her nine lives.
When Lilystar got to camp, everyone cheered for her!
"Stormheart will be my deputy!" she said.
Stormheart nodded.
THE END!
Ad blocker interference detected!
Wikia is a free-to-use site that makes money from advertising. We have a modified experience for viewers using ad blockers

Wikia is not accessible if you've made further modifications. Remove the custom ad blocker rule(s) and the page will load as expected.