Mistlepaw(snow)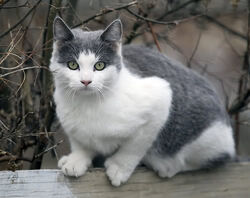 | | | |
| --- | --- | --- |
| | Other Names | Mistlekit, Mistlesnow, Mistley, Mistle, Miss Taiiy, Mistgoose, Mislepsw |
| | | |
| --- | --- | --- |
| | Relatives | Brightfeather (mother), Cedarfrost (father), Dappleheart (sister) |
| | | |
| --- | --- | --- |
| | Affiliation | BlogClan, TpyoCaln, R.C.F. (Revive CBox Foundation), Rebelpaw Club |
Biographical information
| | | |
| --- | --- | --- |
| | Mentor | SAVIOR OF THE PAPAYAS |
| | | |
| --- | --- | --- |
| | Apprentice | SAVIOR OF THE PAPAYAS |
| | | |
| --- | --- | --- |
| | Rank | SAVIOR OF THE PAPAYAS |
| | | |
| --- | --- | --- |
| | Gender | SAVIOR OF THE PAPAYAS |
| | | |
| --- | --- | --- |
| | Breed | SAVIOR OF THE PAPAYAS |
| | | |
| --- | --- | --- |
| | Fur Color | SAVIOR OF THE PAPAYAS |
| | | |
| --- | --- | --- |
| | Eye Color | SAVIOR OF THE PAPAYAS |
Mistlepaw is a small, lean-built, slim-framed, dark smoky-gray she-cat with large white patches, messy, unkempt fur, a long, thin, whippy tail, and pale green eyes the color of mistletoe leaves
On The Blog
Edit
Mistlepaw joined BlogClan around May 9 2016 as Harepaw, and has a habit of changing her public name and Gravatar a lot, as well as visiting Live Chat as often as possible(which isn't very often), and participating in NTA and the games on the Warriors Games Page. She will also occasionally write an article if she's not feeling too lazy. Most of the time she just goes on commenting sprees if she really tries to.
On The Wiki
Edit
Mistlepaw joined the BlogClan Wiki rather recently as SilverSkyClaw, and never does much on here except join threads on the Fun And Games Board and edit her fursona and userpage. She likes making large lists of people, and exploring others' fursona pages. Occasionally, she will join Live Chat.
Personality
Edit
Mistlepaw is generally quiet in public places, and tries to talk as little as possible. She often tries to minimize physical contact and dislikes hugs or handshakes. She is also very lazy and a big procrastinater, which she is currently trying to fix. She likes being neat and orderly(although her room isn't), and keeping a schedule which she rarely does. She has a big obsession with Warriors, Seekers, and Wings of Fire. She is really bad at art.
Her hobbies include painting(generally watercolor, sometimes oil or acrylic), gardening, playing the violin, and badminton
She keeps a small vegetable/flower/herb garden in her yard
She can be extremely cringy and idiotic and times
She is very introverted, unlike most BlogClanners
Her attempted sketches and digital art are absolute eyesores
She often sneezes a lot when she wakes up in the morning
In real life, she is almost never seen without her black jacket(except in the really hot summer)
She likes playing word and puzzle games
She is a picky eater and very impatient
She gets bug bites very, very easily
Her Hogwarts house is Ravenclaw
Her Patronus is a nightjar
Her absolute least favorite cat is Tigerheart, hence why she hates the TigerDove ship(Dovewing is her 2nd least favorite)
She is very individual, and has a habit of generally distrusting people
She is okay with pretty much all canon cat ships except DoveTiger because she really hates it Flametail > Tigerheart Ivypool > Dovewing lup Tigerheart is a bad kitty Dovewing is too mary sue
wall of the greats
Edit
add yourself but i might change it to a pun
Ad blocker interference detected!
Wikia is a free-to-use site that makes money from advertising. We have a modified experience for viewers using ad blockers

Wikia is not accessible if you've made further modifications. Remove the custom ad blocker rule(s) and the page will load as expected.