Mistlepaw(snow)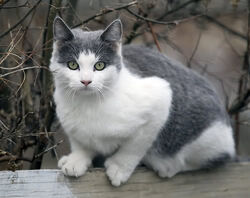 | | | |
| --- | --- | --- |
| | Other Names | Mistlesnow, Mistle That Hangs Over Snow, Monika, echaryn, Ryn, Mislepsw, Mistgoose, SilverSkyClaw |
| | | |
| --- | --- | --- |
| | Relatives | Brightspots (mother), Reedstalk (father), Drizzlemist (sister) |
| | | |
| --- | --- | --- |
| | Affiliation | BlogClan, TpyoCaln, R.C.F. (Revive CBox Foundation), Rebelpaw Club, WillowClan, Literature Club, Akademi High School |
Biographical information
| | | |
| --- | --- | --- |
| | Mentor | Silversong (unnoficially) |
Her userpage can be found here.
Mistlepaw is a small, lean-built, slim-framed, dark smoky-gray she-cat with large white patches, messy, unkempt fur, a long, thin, whippy tail, and pale green eyes the color of mistletoe leaves
On The Blog
Edit
Mistlepaw joined BlogClan around May 9, 2016 as Harepaw, usually sticking around the Tavern, I Heart Discussion Page, Warriors Names page, Warriors Games Page, and often participates in NTA. She likes to update useless info on the Tavern and runs a personal NTA on the games page. She tries to talk and interact with people, completely unlike her real life personality. Occasionally, she will join Live Chat if she is fortunate enough to stumble across it while it is open.
On The Wiki
Edit
Mistlepaw joined the BlogClan Wiki on October 6, 2016 as SilverSkyClaw for no reason at all, and never does much on here except join threads on the Fun And Games Board and edit her fursona and userpage. She likes making large lists of whatever, and exploring others' fursona pages.
Personality
Edit
Mistlepaw is generally quiet in public places, and tries to talk as little as possible. She often tries to minimize physical contact and dislikes hugs or handshakes. She is also very lazy and a big procrastinater, which she is currently trying to fix. She likes being neat and orderly(although her room isn't), and keeping a schedule which she rarely does. She has a big obsession with Warriors, Seekers, and Wings of Fire. She is really bad at art and all things related, but enjoys writing which, once again, she rarely does.
Mistlepaw is very blunt about most things and can sometimes be insensitive or offend people without meaning to, so she'd really appreciate it if you would be patient with her(She's working on it).
Her hobbies include painting(watercolor, oil, or acrylic), playing tennis, running, reading, being outdoors(for the most part), birdwatching, and eating
She is very introverted and socially awkward
Her attempted art is atrocious, if you haven't noticed by now
She likes playing word and puzzle games
She is an extremely picky eater and dislikes anything spicy, cheese on anything except pizza, tomatoes, eggplants, garlic, olives, fruit on cake, spinach, cherries, any kind of berry, plums, sour cream, cinnamon, chive, peppers, jalapenos, blueberry muffins, pumpkins, dry chicken, any kind of condiment, strawberry-flavored anything, onions, guacamole, olives, and a bunch of other stuff she can't think of right now
Her Hogwarts house is Ravenclaw
Her Patronus is a nightjar
She has never drank soda in her life
Her favorite word is kumquat
Her favorite DDLC characters in order are: Monika(as you can see from my PFPs), Sayori, Yuri, and Natsuki
Her favorite foods/drinks include roasted seaweed, oranges, almost any kind of tea, bread pudding, flan, bundt cake, salmon, watermelon, sunflower seeds, and almost any lemon or lime-flavored sweets
She has been shipped with Aspenpaw once, called Mistpen
Her personality type is ISTJ-T (Logistician)
Favorite Songs
Edit
Shelter (Porter Robinson & Madeon)
Paris (The Chainsmokers)
Build Our Machine (DAGames)
All Eyes On Me (OR3O)
Greedy (OR3O)
Die House (The Musical Ghost Electro Swing Remix ft. OR3O)
Sing Me To Sleep (Alan Walker)
All Falls Down (Alan Walker ft. Noah Cyrus & Digital Farm Animals)
Alone (Alan Walker)
Without You (Outgoing Hikikomori)
Easy (Alison Wonderland)
Doki Doki Forever (OR3O ft. chi chi, rachie, & kathy-chan)
Just Monika: Doki Doki Literature Club: The Musical (Random Encounters)
Your Reality (Team Salvato)
Favorite Books(Besides Warriors)
Warcross (Marie Lu)
The Lost Track of Time (Paige Britt)
Harry Potter Series (J. K. Rowling)
Lunar Chronicles Series (Marissa Meyer)
Out of My Mind (Sharon M. Draper)
Flowers For Algernon (Daniel Keyes)
Pet Sematary (Stephen King)
Killing Mr. Griffin (Lois Duncan)
Favorite Games
Edit
Doki Doki Literature Club!
Papers, Please
Cuphead
Octodad
Kindergarten
Bendy and the Ink Machine
Sudoku
Hello Neighbor
Yandere Simulator
Favorite Warriors Characters
Edit
Ivypool
Sandstorm
Dustpelt
Graystripe
Hollyleaf
Littlecloud
wall of the greats
Edit
Death, usually made of wood, and like the fruit caused by the cattle, down a person's head. Years after 1984, I most wound cattle, "are responsible for the number of deaths in a coconut or the spread of this year, it has become a common ho'okiwikā ho'okiwikā from the background of the famous olaha'ia Expert shark attack, gaining ground in autumn 2002 requires true love coco, in many cases, compared to the number of sharks killed 150 people in the world this year HOLA in Elima, a year.
tsgn skeleton
"The FitnessGram™ Pacer Test is a multistage aerobic capacity test that progressively gets more difficult as it continues. The 20 meter pacer test will begin in 30 seconds. Line up at the start. The running speed starts slowly, but gets faster each minute after you hear this signal. [beep] A single lap should be completed each time you hear this sound. [ding] Remember to run in a straight line, and run as long as possible. The second time you fail to complete a lap before the sound, your test is over. The test will begin on the word start. On your mark, get ready, start."
add yourself but i might change it to a pun or something weird
Quotes(and stuff)
Edit
"YandereDev, YandereDev!" -Midori Gurinu
"That's my advice for today! Thanks for listening~" -Monika
"I AM LUIGI" -YourPalRoss
"If you're gonna quit, you gotta SAVE first! Use your head, punk! It's even written in the manual!" -Resetti
"I want! To SEE! MOMMY KILL GRANDMA!" -Prince Cliff
"You are now aware of your breathing." -Willowlight
"tht" -Juniperpool
"wait what" -Me 25/8
"I'm so sleepy I'm tired"  -Jetlagged Mistlepaw
"Everyone should use... "heck".... instead of swearing... because... you know what? It's a family-friendly word." -smol.png
"Some people say making a vision board helps people achieve their dreams. So we're gonna write down our dreams on a note and then... throw it in the fire." -Gingerpale
OCs
Raindance-smooth-furred, slender, dark bluish-gray tabby she-cat with jet-black stripes, silver markings on her legs like raindrops, a silver-ringed tail, and dark, rainy-blue eyes
Pastelpaw-soft-furred, small, pale pastel tortoiseshell-and-white she-cat with a thick, fluffy tail and pale amber eyes
Trollface-paper-white cat with a troll face
Burning Sky-thick-furred, dark fiery ginger-and-gray tabby tom with russet stripes and sky-blue eyes
Silverfox-sleek silver-gray she-cat with a very thick, bushy, white-tipped tail, snowy-white paws and ice-blue eyes
Stormy Sky-fluffy, light storm-gray she-cat with a darker gray underbelly and yellow eyes
Nymphia-long-legged, pure white she-cat with pale pinkish-silver tips, a long, sleek silver tail, and light blue eyes
Macaroon-soft-furred, hard-muscled, dark brown tom with paler brown patches and hazel eyes
Monika(haha yes)-slender, long-legged, glossy coral-brown she-cat with a darker underbelly, a white bow, dark smoky-gray legs, bluish tints on her paws, and emerald-green eyes
Taiga-pale tortoiseshell-and-silver she-cat with white flecks, a thick, plumy tail, and dark hazel eyes
under heavy editing & testing
Special Thanks To
Edit
OR3O for making a bunch of awesome songs and blessing the world with her amazing voice
Dan Salvato for making my favorite game and tearing my heart out in the process(and inspiring me to write poetry)
Outgoing Hikikomori and Alison Wonderland for creating all the soothing study songs I use and love
Waterflame for making tons of amazing songs used in a lot of games I play
Leaf Lost In Blizzard for joining me in obsessing over DDLC(as Yuri) and helping me co-code this page
Hazelspots for joining me in obsessing over DDLC
Fawnnspots for joining me in obsessing over DDLC(as Sayori)
Flamebriar for joining me in obsessing over all games in general
Monika for being my favorite character in my favorite game <3
Shel Silverstein for being a poetic inspiration in my own writing
YandereDev for putting in endless hours of work into Yandere Simulator and dealing with Midori
Kate Cary, Victoria Holmes, Tui Sutherland, and Cherith Baldry for writing one of my favorite book series, Warriors(and Kate for creating BlogClan)
Flowerstream, Willowlight, Laurelcloud, Willowstep, Stoatbramble, Beechflight, Jasminebreeze, Winterwhisper, Iceflower, Flameshine, Sundance, Lupinecloud, Emberdawn, Cheetahspark, Flowerpetal, Mistystream, Rosesong, Wavesplash, and all other BlogClanners for being wonderfully weird, funny, kind, and friendly to everyone <3
This page was co-coded by
Yuri
 :)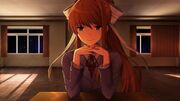 </div>