*discovers a void*
*nulls it with furry memes*
*or at least attempts to*
*until he discovers it just makes more of a void*
*so he fills that void*
*but the void is bigger than he previously thought*
*and he can only fill it with text*
*so Oakie embarks on a quest to null the void*
*will he succeed?*
*find out in the next episode of...*
*nulling*
*the*
*void*
Oakwhisker is a russet tom with sandy ginger stripes, amber eyes, a brown eyespot, and sandy ginger paws, chest, ear tips, and tail tip. 
Personality
Edit
Oakwhisker is generally lighthearted and social, but on bad days tends to be extremely introverted, sarcastic, and abrasive. Due to his depression, anxiety, and Autism, he oftentimes will have violent outbursts, but usually returns to his natural self when around his family and friends. He is known for being spontaneous and for being the one to stick up for his beliefs, as well as being fiercely loyal to his family. On normal days, he will be found either by the fresh-kill pile, with his mate, with his kits Redpaw and Squirrelpaw, or wandering thoughtfully in the forest. 
On the Blog
Edit
Oakwhisker is a Warrior on the Blog and is extremely active. He joined on December 15, 2017, but has previously been active on several Warriors fanpages such as Warriors Art Amino and VidClan. He is usually most active on the Hug Page and the Tavern, and often submits articles and fanart to the Blog. He regularly stalks the Fanfiction Organization page, signing up for every Blogfic he's able to.
On the Wiki
Edit
Oakwhisker joined the wiki on December 20, 2017, and mostly focuses on roleplay, Blogfic planning, and blogging in general. He is known for multitasking, and always has a tab open to the Wiki. He is usually spamming everyone's notifications, though, during his free period, in the early evening when he's supposedly working on homework, and at like 10:30 at night while doing the dishes and singing off-key to his Spotify playlists. Oakwhisker recently (Dec. 2017), along with Flowerpetal (Peto), created a main RP group titled the Spy Organization. It is like his only claim to fame on the site.
As of August 20th, 2018, Oakwhisker has accepted the roles of Roleplay Allegiance moderator and Info Page moderator.
In The RP's
Edit
Oakwhisker lists the characters he uses in the Roleplays:
Fading Futures:
None actively RPed
Northern Stars:
Shell Society
~Auggie
~Vesta
Frostpath Alliance
~Shadowed Brook
Tribe of Whispering Pines
~Finch Gliding on Wind (Finch)
Friends on BlogClan/Wiki
Edit
He is friends with everyone, but the ones he socializes with the most are:
(feel free to add your name if it isn't here and you're my friend, I'm not good at keeping record of things lol).
Friends In Life
Edit
Jasmine (Frostwillow)
Aubrey (kiwi/kiwicatbluestar)
Breanna (Firespring)
Alyssa (Featherleaf)
Solomon (Doesn't deserve a name, he's a fowlshamer -_-)
Abby (Gingerstep)
Laura Dreyfuss (does it count if i've only met her like 3 times and for no more than 5 minutes in total?)
Holiday Names
Edit
Christmas: Oak Isn't Very Festive
Boxing Day: Oak Isn't Canadian
New Years: Oak Is Ready For Christmas Now (Oh Wait...)
Valentine's: Oak Is Lonely And Covered In Chocolate
St. Patrick's day: Oakwhisker Covered In Green Paint
Birthday (March 18): (not logged in)
National Tartan Day: Oak Is Scottish As Fr*ck
Easter: Oak Got All The Eggs
Pentecost: Oak Ate The Ascending Dove
Independence Day: Oakwhisker wrapped in the American Flag
Halloween: Oak Wants Candy
Election Day: America Is Doomed
Thanksgiving: Oak Officially Broke 100 lbs
Black Friday: (not logged in)
LGBTQ+ Pride Month (apparently doesn't have a date this year :/): Oak's Out Of The Closet
Favourite Books
Edit
Warriors
Favourite book: Hawkwing's Journey
Favourite Character: Bumblestripe
Favourite ships:
BlueXThrush
JayXStick
LongXFire
AshXScourge (even tho it's impossible)
HollyXFallen
LeafXSharp
HawkXPebble
BrambleXJessy
RavenXBarley
TreeXViolet
FinXTwig
Favourite Warriors Moments
Edit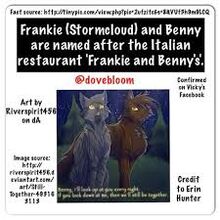 Finding out that Frankie and Benny (Bramblestar's Storm) are named after the restaurant Frankie and Benny's (which is AMAZING)
Receiving confirmation that Ravenpaw and Barley are mates
Putting Kate Cary in a Blogfic (you'll see)
Asking Kate Cary to confirm my WP account
How I used to think Erin Hunter was an actual person living in Pennsylvania
Wait For It, from Oakheart's perspective (link tba)
Finding another Warriors fan and fanguying with them for frigGIn hOUrS aT A TImE
Likes and Dislikes
Edit
Likes:
Warriors
BlogClan
Furries
Writing
Drawing
Triple Yes (long story)
Running Cross Country
Emo Music
Night In The Woods
Yuri!!! On Ice
Jacksfilms
MERCH
Hummus
Green Tea
Theatre
Dear Evan Hansen
Hamilton
Zootopia (don't judge)
Scotland
THE SIGH AT THE END OF TRAPDOOR
sinister cello* there's nothing like summer in the city...
Dislikes:
Zaxby's
Rap Music
Attempting to Socialize
March 22nd (long story, only emos understand)
colddd
athletic clothes
too-short phone chargers
random ocean analogies that constantly flood his thoughts
spotify not loading
Dovewing
Country Music
my phone
fake fans
seatbelts
knockoff brand mac n' cheese
overplayed music
Fanfictions
Edit
Blogfics:
Silenced Plea (cancelled)
Poolstar's Choice (Collab)
Untitled Blogfic by me
Chances (Collab)
Seasons of Night (Collab)
Untitled Bloggyfic by me
My Rio (Oneshot)
Prolly some others but I literally just woke up so I'm too lazy to look
Fanfictions:
His Last Words (furry fanfic)
We've Got Your Back (Human Warriors fanfic)
The Balcony Ledge (furry fanfic)
smol beans (Twenty One Pilots fanfic)
another untitled furry fanfic
Taken By Sleep (Furry Fanfic)
(forgot the title :P)
Kat is that you or am I being invaded by Laura Dreyfuss again~ me (apparently), said before coffee when she came into my hotel room at like 3 in the morning :/
Shimmy shimmy yea, shimmy yea, shimmy ya, swallalalala~ Jason Derulo (I think)
Jaz: I'm 5' 4"
Roo: We're height buddies!!
Me: So am I o_0
Roo: We should start a band and only people who are 5' 4" can join
Me:
Jaz:
Roo:
Me: seems legit
Squiggles give me anxiety~ Richard, my coworker lol
Ehikuhikukumamaono
New York
Forgive me, and you are Aaron Bear, sir?
This, which is the question?
Where, sir
I am Alexander Hamilton, I am at home, sir
I'm looking for you
I'm scared
Sir, I heard your name in Preston
I'm tired of running
My husband is a young man and a friend
I can print it, great
Will he save money?
Do you know the picture?
Yes, I want to do their job
After leaving two students to school, the difference could be stupid, I was a fool
How do you get out of school, what will happen to you?
That's like my parents
Foolish child, your child
I love war
And make sure that our business is more secure than any other business
Can i drink
that's right
Speaking, please be happy to give a suitable teacher to you
Simple word
How?
They were scared
H
Do not let anyone know who else is
You can not imagine
Want to go to the front?
yes
Small children have died
Yo Yo Yo
When?
Start
According to my vocabulary
Tell us time
I, I am in the state of John Laurent.
Two teams for Sam Adams, but I do three different things.
I do not like this clothes.
Due to my experience in the chicken, I will show them to the police until they are alone.
Yes, the Messiah, Maple Lafayette
Change
I came from afar to speak only a good thing.
Tell the King of Kasey-Tei
Well
Brrrah, I know, Brāah mulligan
At the bottom, yes, I asked my mother to tell me to return
Of course, at this moment girls, horses, black and white
Four big financial stories (HUNTSMAN)
The more the [...] is, the more my child is involved
We hope we find a new one
But pride is not the jumper
Aaron Bar
We have strong points of music
Alkina, Dad.
I will live
We call here.
Berry, the rebellion is near, why not see now?
If you leave Burr, are you minor?
who are you?
Who is this baby and what will he do?~ Aaron Burr, Sir meets Google Translate
Bitterness is a choice~ Andy Mineo, Bitter
I am a pork cutlet bowl fatale that enthralls men~ Yuri, Yuri!!! On Ice
Please leave all overcoats, canes, and tophats with the doorman; from that moment you'll be out of place and underdressed~ Panic! At The Disco, There's A Good Reason These Tables Are Numbered Honey, You Just Haven't Thought Of It Yet
waityoudidn'tanswetthequestion~ Erin, Jacksfilms
I don't believe in music, I'm waiting until marriage~ Still Erin, still Jacksfilms
This poll is rigged~ LZRD WZRD in response for losing the VidClan leader election
When Rome's in ruins, we are the lions, free of the colusiums~ Fall Out Boy, Young Volcanoes
I don't believe in talking just to breathe~ Twenty One Pilots, Air Catcher
Entertain my faith~ Twenty One Pilots, Holding Onto You
That really gargles my grundle~ Jack, Jacksfilms
no im STREEEET~ Stargleam, Starkit's Prophecy
They all locked at the lzard. It wuz a newt~ Starkit's Prophecy
I won't fall in love with falling~ Twenty One Pilots, Air Catcher
I'm a total trash mammal~ Mae, Night In The Woods
I got nightmare eyes~ Mae, Night In The Woods
Everything sucks forever~ Mae, Night In The Woods
There are no mistakes, only happy accidents~ Bob Ross, memesssssssssssssssss
Death, usually made of wood, and like the fruit caused by the cattle, down a person's head. Years after 1984, I most wound cattle, "are responsible for the number of deaths in a coconut or the spread of this year, it has become a common ho'okiwikā ho'okiwikā from the background of the famous olaha'ia Expert shark attack, gaining ground in autumn 2002 requires true love coco, in many cases, compared to the number of sharks killed 150 people in the world this year HOLA in Elima, a year. ~FLOWHATEVER
just... basically every line from every song of Twenty One Pilots and Dear Evan Hansen
Lives in North Carolina
real name: Aaron
is bisexual
Single
has a dog named Nicolai-Mac, a cat named Cinderheart, and a birb named Gypsy <3
birthday is March 18
grade 10
Is Scottish (Mar Clan)
TRIPLE YES CLAN YES YES
Other OC's (older ones no longer used): Lostheart, Stoneheart, Sunheart, Hollydusk (who, yes, was a girl, I used her to mess with people's heads in roleplays X3)
Has Asperger's
getting a degree in Interior Design
His cousin is kiwi (warriors art amino)
has read warriors since 3rd grade
Is laufully wikimarried to Fawnpaw/berry's rp character Quietcricket
Also Roo (duckduckgoosewing)'s rp character Robinpelt (For the Blogfic)
He is a mirror image of human Firepaw ([1])
Positivity Page
Edit
Feel free to post something positive here, whether about me *hint hint* or about BlogClan in general! (Idea totally not taken from Loudy :P) I'll get everyone started ^^

I love everyone here ya'll are so supportive all the time thank you -Oak
ArtichOak is a fabulous human being and one of the few reasons besides the Blog in general why I still have faith in humanity. If you ever feel like you're waving through a window, and nobody's waving back at you, well, look again, because Oak is so nice and such a good friend and he's probably figuratively waving back at you ~Leaf Lost in Salad
Love you b*tch (I'm joking ;) ), stop being so amazing and making the rest of us feel jealous" :P ~ From secretive person I JUST DARE YOU TO FIND OUT
http://www.furaffinity.net/user/oakie-dokie/
💠~Coding by Riverfrost~💠