VOTE FLO FOR MEDICINE CAT (Never mind... SHE WON!!!)Edit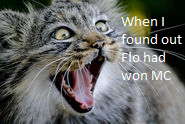 YYYYAAAAAAAAAAAAAAAAAAAAAAAAAAAAAAASSSSSSSSSSSSS!!!!!!!!!!!!!!
Featured Cat Picture
Edit
Every week I'll feature some random cat picture off the internet! Here's this weeks:
== Drawing Of The Month ==
Where I post my best drawing from the previous month! Buuuut, since I can't find my drawing book, I have no drawings this for last month... I got one for next month though.
Personality
Edit
Easily agitated. Very loyal.
 On the Blog
Edit
I mostly just chat, although sometimes I randomly comment places.
On the Wiki
Edit
I made this page! 
 Trailing Stars 
Edit
Sadly, I am not in it. *tear*
Is featured in a fanfic as herself, written by herself. and featuring herself.
Has a strange liking for pizza (white cheese)
"Snarl."
Pallas Gallery 

Edit
P

anther Gallery 

Edit
Sunset Gallery (From my vacation a while ago)
Edit
Cat Pictures With WORDSS

Edit
Ad blocker interference detected!
Wikia is a free-to-use site that makes money from advertising. We have a modified experience for viewers using ad blockers

Wikia is not accessible if you've made further modifications. Remove the custom ad blocker rule(s) and the page will load as expected.