Winterwhisper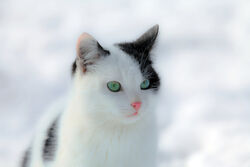 | | | |
| --- | --- | --- |
| | Other Names | Winter, Win, Wint |
| | | |
| --- | --- | --- |
| | Affiliation | BlogClan, BlogClan 2 Wikia, Warriors Wiki |
Biographical information
Apprentice

Currently: Willowpaw (Willowrain)

Formerly: Lupinepaw (Lupinetail)
Rank

Currently: Senior Warrior

Formerly: Warrior, Medicine Cat Apprentice, Apprentice
| | | |
| --- | --- | --- |
| | Fur Color | White-and-Black |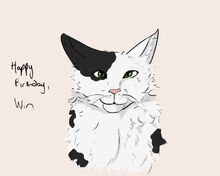 Appearance
Edit Winterwhisper is a fluffy white tom with black blotches, a black tail, and a black face spot covering one eye and ear. He has big, dark green eyes, a long tail and large feet.
Personality
Edit
Winterwhisper is occasionally calm, but he will snap if he is annoyed. He's really quite sassy and rude, and evil, though he hates to admit he's caring and sensitive. He can get along with most people on the blog, except ones that are too much like him. He usually gets along better with females. He has a surprising similarity to Winter from a Wings of Fire, and Jayfeather from Warriors. He has a lot of personality traits, and often they change or shift. He acts different around every person in real life he knows. He is almost adaptable—in a complicated way. Winterwhisper is strange, yet most people find that interesting.
He doesn't usually go on big rants, but can if he is well known with the topic. He has strong support for LGBTQ+ community, and supports equality for everyone. He is an indecisive person, constantly unable to determine his favorite out of a long list on anything.
He is generally a loud person.
He really likes knowing what other members of BlogClan think of certain things, and likes to ask them questions. His favorite articles are the ones of people's opinions, such as least favorite/favorite cats, most evil cats, etc. He was a big fan of warriors from the start, enjoys writing fanfiction, and always urges people to read it—he loves reviews and support. He doesn't do well with critiques, but knows he needs them.
He, Flowerstream and Maplesky are part of a "trio," as they are all close, and a few of his best friends are Sundance, Iceflower, and Fernfall. He can be offensive or unpredictable, and has big reactions to small things. Winterwhisper is a very unique cat, hard to match, always with hidden information about him.